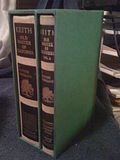 We have a rather large collection of Western Americana that we acquired from one John Brunt of Walla Walla, Washington. Brunt owned and operated a bookstore in Glendale, CA for many years before moving to Walla Walla, crafting beautiful custom slipcases for many of the books in his Western Americana collection numbering nearly a thousand titles. We have more of his books available for avid collectors!
Some of Brunt's other books are located in
our Antiquarian & Collectible section.

Good

Two volume set in custom slipcase, clean text, tight bindings, very light wear to exterior, corners, edges and covers. We have a rather large collection of Western Americana that we acquired from one John Brunt of Walla Walla, Washington. Brunt owned and operated a bookstore in Glendale, CA for many years, crafting beautiful custom slipcases for many of the books in his Western Americana collection numbering nearly a thousand titles. We have more of his books available for avid collectors!
Price: 237.50 USD