Here's a teaser, check out the rest.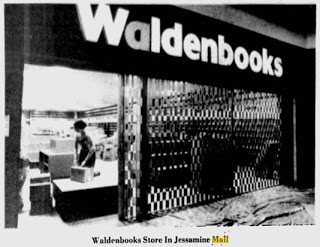 Upheaval in the bookselling trade is not a purely 21st century phenomenon. The introduction of cheap paperbacks during the decade following World War Two turned the bookselling trade upside down, pushing the locus of the trade away from small shops located in big city downtowns to newsstands and drugstores, with their ubiquitous spinner racks. Cheap paperbacks helped (along with the introduction of TV into nearly all households) to kill off the formerly lucrative niche of pulp fiction magazine publishing; many of the specialty pulps disappeared altogether (nurse pulps, airwar pulps, and western pulps, to name a few), and the science fiction and mystery pulps shrank back to a handful of titles, the survivors soon reducing their format to the smaller (and cheaper to manufacture and distribute) digest size.
More recently, in the middle to late 1970s, the bookselling trade was transformed yet again, this time by the rapid spread of shopping mall-based national and regional bookstore chains which concentrated on carrying large selections of paperbacks and discounted hardbacks, most of the latter being "remainders," unsold books which had been returned by stores and then offered by their publishers for resale at steeply discounted prices.
I came across this
Time Magazine
article from 1978, entitled "
Rambunctious Revival of Books
," which gives a sepia-toned portrait of the bookselling trade thirty-five years ago, before the rise of the superstores, when mall-based chains such as Waldenbooks and B. Dalton Booksellers were the Amazon.coms/800-pound gorillas of their day. (Note: This article is brought to you by the Internet Archive Way-Back Machine, so it may take an extra few seconds to load.)
"Once upon a time book retailing was about as exciting as watching haircuts. Hardcover books were often sold in musty downtown stores by fussy bibliophiles, and many readers turned to paperback racks in the more informal atmosphere of supermarkets or drugstores. Today the bookstore business is in the midst of a rambunctious revival. … Largely as a result of their merchandising razzle-dazzle, the chains are inducing people to buy more books than ever. … Helped by the chains' expansion, stores are springing up, increasing from about 7,300 less than two years ago to almost 9,000 now.
"In the forefront of the merchandising blitz are such chains as Waldenbooks, the nation's largest book retailer, owned by Carter Hawley Hale Stores. Begun in 1962, the Walden chain now has 498 shops dotted around the country, mostly in suburban shopping malls. In recent years it has been opening a store a week. B. Dalton, a subsidiary of Dayton Hudson Corp., the department store conglomerate, is the second largest bookseller. Dalton too has been growing at a feverish rate in recent years and has 339 stores in 40 states. Other chains include Doubleday stores, an affiliate of the publishing house, and Brentano's, an affiliate of Macmillan. The chains account for up to half of all hardcover retail sales, and their share of the market grows every month.
"These big companies operate with a cold efficiency that astounds the oldtime booksellers, who often take a warm proprietary interest in their wares. Highly computerized Dalton, which carries about 30,000 titles in each shop, assigns every book a number; when the book is sold the number is entered through the cash register into a computer, which produces a weekly report on what every store in the chain has sold. Slow-moving titles are quickly culled. Most chains concentrate almost exclusively on bestsellers—novels, selfhelp, biographies and the like. …
"Kroch's, which has a reputation as a quality bookseller with an interest in the literary field, continues to operate in the old tradition; its sales people, for instance, often phone customers to alert them to new books that they might like. Against this, Dalton offers a plethora of autograph parties featuring such guests as Charlton Heston and former Treasury Secretary William Simon, and some selective discounting. Like many independents, Carl Kroch, the chain's president, insists there will always be a place for the old, full-price shop. Says he: 'You can't provide our kind of services on such a large scale. Besides, there's room for everyone. The public is still underexposed to books.'"
The modern reader has to stifle a laugh at the article's swooning description of "highly computerized Dalton … (which) assigns every book a number." Wow! What a wonder of the modern world! But the words of Carl Kroch sound much less dated – because they echo virtually every press release sent out by Leonard Riggio, Barnes and Noble's chairman, whose firm, the only surviving national superstore chain in America, now finds itself in precisely the same market position as Kroch's Books was in back in 1978.
Still, this article inspired a lot of nostalgia for me. I was thirteen years old in 1978, what Isaac Asimov has called "the Golden Age of science fiction." It certainly was for me. I had just discovered Anne McCaffrey, Robert Silverberg, and Ursula K. LeGuin. I began building my science fiction reference library at my local Waldenbooks, tucked away inside the 163rd Street Shopping Center in North Miami Beach, spending my weekly allowance and bar-mitzvah gift money on such tomes as The Visual Encyclopedia of Science Fiction and David Kyle's wonderful pair of beautifully illustrated, large-format histories, A Pictorial History of Science Fiction and The Illustrated Book of Science Fiction Ideas and Dreams (still own all three of them and have been sharing them with my oldest son). That particular Waldenbooks, by the way, was where I met the first, great (unrequited) love of my life, a cultured young lady seven years my senior who was working as a bookstore clerk to pay her way through college. The nearest B. Dalton Bookseller was downtown, at the Miami Omni Mall; due to their well-stocked history section, that was my go-to source for big, thick, photo-choked histories of warships and armored vehicles. Four years later, when I went to New Orleans to attend Loyola University, I discovered a Brentano's Books at the Shops at Canal Place mall, located downtown near the Mississippi River; it was a charming spot at which to enjoy a cappuccino and page through an imported art book.
I imagine that come 2048, thirty-five years from now, some other commentator will come across an article in the Internet Archive Way-Back Machine (or its future equivalent) fromForbes or The Wall Street Journal or Wired, describing the disruptive impact of Amazon on the bookselling trade and the death-throes of the physical superstores. I wonder whether that middle-aged commentator will look back on his or her teen book-buying years and remember the experience of shopping on Amazon with the warm glow of nostalgia?